About Our Marlton Dental Practice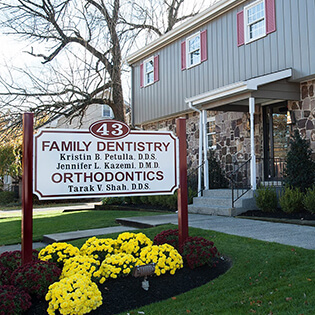 Welcome to the Marlton, NJ dental office of Kristin B. Petulla, DDS and Jennifer L. Kazemi, DMD! Our skilled dentists and knowledgeable team members are always hard at work making sure every patient we treat is comfortable and feels welcome in our family-friendly dental practice. If you're new to Marlton, or the surrounding communities, or are just looking for a new dental home, we'd love to see you and your family in our office for regular checkups and all of your dentistry needs. Call our office to schedule an appointment today.
What Makes Us Different?
Caring Team
Every member of our team is passionate about patient care. Our goal is to make you feel right at home from the moment you call or arrive for your first appointment. After decades of working together in the same office, our team shares a unique bond that is not commonly found in healthcare. We are truly committed to providing quality and thorough treatment, while building strong relationships with each patient. Years of training and experience, a dedication to patients, and a team that truly feels like family are some of the things that keep our patients coming back to see us again and again. We invite you to get to know our friendly team before your visit, and we look forward to welcoming you into our dental practice.
Mercury-Free & Metal-Free
We are dedicated to making patient care safer and more effective every day. That all begins with high quality materials. That's why our practice offers mercury-free and metal-free restorative dentistry. Every restoration you receive in our office will look and feel like natural tooth structure. Safe and effective for patients with metal allergies or sensitivities, these restoration materials are of the highest quality, and they can last for decades with proper care.
Learn More About Mercury-Free Dentistry
Focused on Comfort
If you're one of the many dental patients who dread their twice a year appointments, or skip them altogether, that can end today. We want to prove to you that dentistry doesn't have to be painful, or a horrible experience. While we recognize the fact that some people have bad memories of going to the dentist, we will do our very best to replace those with pleasant ones. We take the time to make sure you feel comfortable throughout your dental appointment, with music, blankets, and warm towels being part of the protocol. By providing patient-centered, comfort-focused dental care, we know your outlook on going to the dentist is sure to change.
State-of-the-Art Care
We feel a responsibility to our patients to stay up-to-date on the latest advances in dentistry. When technologies come along that we know will change the way we interact with and treat our patients for the better, we do all that we can to offer these services to our patients. Digital x-rays, digital impressions, and an intra-oral camera are a few of the newer technologies we use in our office. Staying at the forefront of dental innovation is important to us because we know it can make your dental treatments faster, more comfortable, and more effective.
Dental Emergencies
Don't hesitate to contact our Marlton, NJ dental practice if you or a loved one experience a dental emergency. We are here when you need us, and are happy to provide same day emergency appointments. Even if we can't see you on the day you call, we'll walk through pain management and first aid over the phone to ensure your safety and comfort until you reach our office.
Patient Referral Program
New patients are always accepted in our office. The greatest compliment our patients can give us is the referral of their friends and loved ones. If you refer someone to our practice, when they come in for treatment, you will receive a $25 credit on your account as a thank you and token of our appreciation.