Periodontal Therapy – Marlton, NJ
Treating Gum Disease For a Healthy Smile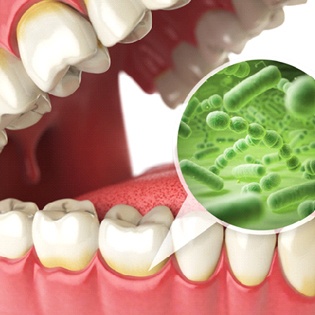 Gum disease is a common condition that, if left untreated, has serious consequences to your oral health and overall health. In addition to being the #1 cause of tooth loss, it's also been found to increase the risk of many conditions such as heart disease, stroke, Alzheimer's, pregnancy complications, and even some cancers. Dr. Petulla and Dr. Kazemi know that gum health is the foundation of a healthy smile, so we offer multiple types of periodontal therapy in Marlton to address the root cause of gum disease and greatly improve your dental health in the process. If you think your gums are less-than-healthy, contact us today to schedule an appointment!
Is Gum Disease Common?
It's estimated that nearly 50% of U.S. adults, or around 65 million people, have some form of gum disease. This common condition occurs when inflammation damages the gums and underlying bone that surround the teeth. Since these structures are responsible for keeping the teeth in place and providing chewing strength and stability, untreated gum disease can eventually lead to loose teeth and tooth loss.
The Phases of Gum Disease
Early gum disease – Also called gingivitis (which means "inflamed gums"), the symptoms at this stage include tenderness or bleeding, often after brushing or flossing.
Moderate gum disease – In this stage, you may notice more frequent bleeding, moderately swollen, red, or tender gums, a chronic bad taste in your mouth, or gum recession.
Advanced gum disease – Advanced gum disease includes a more severe form of the symptoms mentioned above, along with loose teeth or discomfort when chewing.
Treatment Options For Gum Disease
If you notice any symptoms of gum disease in Marlton, give us a call right away. We have multiple treatment options, including scaling and root planing and antibiotic therapy, but the earlier we start, the better.
Scaling and Root Planing
This procedure, sometimes called a "deep cleaning," is done in 2-4 visits, depending on the severity of your gum disease. First, you'll also be numbed beforehand to make sure you stay comfortable throughout the procedure. Then we'll scale (or clean) your teeth to remove stubborn deposits of plaque and tartar under the gumline. Finally, we'll plane (or smooth) the roots of your teeth to make it more difficult for plaque and tartar to re-accumulate in the future.
Antibiotic Therapy
Following scaling and root planing, we may also recommend the placement of a topical antibiotic "gel" under the gumline in certain areas. This directly targets microscopic bacteria to treat the source of gum disease. It's somewhat similar to applying antibiotic ointment on a cut after it's been cleaned, except this added layer of antibacterial protection is used under the gums.
The Importance of Periodontal Maintenance
As a dentist in Marlton, our goal is to help you maintain your progress after your initial treatment. While gum disease can't be cured, it can be managed with ongoing care. To do this, we'll create a plan for periodontal maintenance visits, which are a type of dental cleaning designed to maintain gum health. Depending on your needs, these visits may need to be done every 3, 4, or 6 months to remove plaque and bacteria under your gumline that you can't remove at home.
We'll also perform a gum exam at each visit to monitor your progress and catch any problems as early as possible. And since effective plaque control at home is critical to your success, we'll spend time reviewing your everyday oral hygiene habits and give you personalized tips for your brushing and flossing techniques.
Having gum disease doesn't automatically mean you'll lose your teeth. With professional treatment and good habits on your part, you can maintain your smile for many years to come!