Full & Partial Dentures – Marlton, NJ
Rebuild a Complete Smile with Dentures
New innovations in dentistry make it possible to preserve natural teeth for longer. Unfortunately, 35 million Americans do not have any remaining natural teeth despite these advancements. If you are among those who have an incomplete smile, your quality of life has significantly declined. Now, you can no longer smile with confidence, eat your favorite foods, or speak clearly. You do not need to live with the challenges. Your dentist in Marlton, Dr. Kristin B. Petulla and Dr. Jennifer L. Kazemi, have the solutions you need with partials or dentures.
Benefits of Dentures
Every tooth is vital to your oral health and functions. When living with tooth loss, eating becomes increasingly difficult. As a result, you may have to limit your diet. This can lead to nutritional deficiencies that impact your health.
Your teeth also allow you to speak clearly while also providing your facial structures with support. When you lose them, you may suffer from low self-esteem and avoid certain social situations because you are too embarrassed about your slurred speech or your appearance.
Dentures offer a convenient and affordable solution to regain a complete smile. Although they have a bad reputation for looking fake, new advancements allow them to look and feel more natural than before. With the right set of dentures, you will enjoy:
Natural-looking results.
Enjoy your favorite foods.
Improve your confidence.
Provide your facial structures with support.
Speak clearly.
Comfortable fit.
Indications of Dentures
There are several types of dentures in Marlton to replace your missing teeth. After performing an initial consultation, we create a customized treatment plan to rebuild your smile. Depending on your degree of tooth loss and your preferences, we find the best solution to meet your needs.
Partial Denture
If you still have a few healthy teeth remaining, a partial denture will fill the empty spaces. Prosthetic teeth are crafted to match the size, shape, and color of your natural ones, which are featured in a gum-colored base. The denture has a metal framework to allow it to clip or clasp onto your teeth to hold it in place.
Full Denture
An entire arch is replaced with a full denture. We take an impression of your mouth to create a comfortable base for your denture to hold your new teeth. The denture is held in place using suction or an adhesive to prevent any slipping or irritation.
Implant-Retained Denture
You can enjoy the next best thing to your natural teeth with implant-retained dentures. An average of 4 implant posts is placed into your jawbone to secure your denture. With the right care, it has the potential to last for a lifetime.
Understanding the Cost of Dentures
There are several factors that influence the amount you can expect to pay, such as how many teeth you need to replace, the materials that are used, and if you need additional procedures. We help you maximize your dental insurance to reduce the amount you need to pay out-of-pocket. We accept a variety of payment options, including CareCredit, to keep your new smile affordable.
Dentures FAQs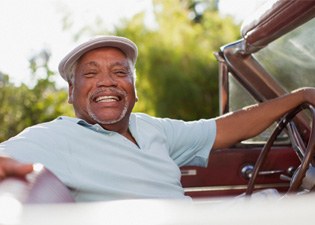 Do you need to replace several or all of your teeth and aren't sure if dentures are the right treatment for you? Below, we've highlighted several common questions we receive from patients. If you don't see the answers you're looking for, please call your dentist in Marlton directly and we'd be happy to make sure you get them!
How long will I have to wait to get dentures after having teeth extracted?
Some patients require tooth extractions before they can receive full or partial dentures, which can delay their treatment timeline. This is because the gums need a chance to heal before they can support the restoration. In some cases, we may be able to offer immediate or same-day dentures, which can be placed on the day of extraction. However, in many cases, patients may need to wait between six and eight weeks if they're receiving traditional dentures.
Can I sleep with my dentures in?
When you first receive your dentures, it's recommended that you wear them for a full 24 hours. However, after that, you'll want to remove them whenever you go to sleep. This will allow your gums to rest and prevent any irritation of the soft tissues in your mouth. Additionally, sleeping with dentures has been associated with a higher risk of pneumonia due to bacteria accumulation. For these reasons, we recommend taking your restorations out before you go to bed, cleaning them, and storing them in a glass of room temperature water to help them hold their shape.
What can't you eat with dentures?
If you have implant dentures in Marlton, there aren't many foods that you can't eat because your bite power is strong. However, if you have traditional dentures that rely on natural suction to stay in place, you'll need to steer clear of foods that are sticky, hard, and tough. These include gummy candies, peanut butter, crunchy breads, meats like steak and pork chops, nuts, popcorn, and carrot sticks.
Why do my dentures smell?
If your dentures begin to smell, it's a sign that you may need to take better care of them by cleaning them more frequently. Just like when bacteria accumulate in the mouth and causes bad breath, the same thing can happen with your dentures. When food particles attract bacteria, they release foul smelling odors that can cause your dentures to smell.
Be sure to brush and clean your dentures every day as well as your gums. Use a denture cleaning brush and specialized cleaner to make sure you don't accidentally scratch or damage them. Also, soak your dentures in a disinfecting solution or room temperature water every night as you sleep.
Will dentures change the shape of my face?
When teeth go missing, the jawbone is no longer being stimulated by their roots, causing it to gradually erode. As a result, your cheeks may appear more sunken-in and your facial muscles may begin to sag. Dentures can help support your muscles and improve your appearance, and if you invest in implant dentures, you can prevent jawbone erosion over time because they're able to fuse with the structure to provide it with necessary blood flow.
Get a Complete Smile Today!
You can overcome the challenges of tooth loss with the right denture. Contact our office today to schedule a consultation.