Dental Checkups and Cleanings – Marlton, NJ
Keep Your Smile Happy and Healthy in the Future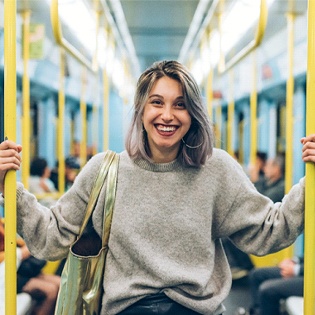 You can prevent oral health problems from ever occurring when you visit Drs. Kristin Petulla and Jennifer Kazemi for high-quality dental care. Our practice focuses on tackling the small issues every six months before they have a chance to progress into something more serious. With routine checkups and cleanings, we're able to keep your smile in tip-top shape and give you all the resources you need to keep your teeth happy and healthy for years to come. Contact us today so you can enjoy our state-of-the-art facilities and comfortable office!
What Happens During a Checkup?
There are two parts to your routine appointment with your dentist in Marlton. The first part will consist of your checkup. Our team of experienced dental professionals will inspect your teeth for common oral health problems like cavities and signs of decay. If you haven't had an X-ray in a while, we may take images of your mouth to see if any issues are hidden under the surface.
Next, we'll check your gums for irritation, swelling, or bleeding, which are all early signs of gum disease. The last part of the checkup will include an examination of your neck, face, throat, and oral tissues for any abnormalities or signs of cancer. If we diagnose any oral health problems, we'll develop a treatment plan for them before moving onto the cleaning.
What Happens During a Cleaning?
The last part of your appointment consists of a professional cleaning. We use special tools like a scaler, dental mirror, and polisher to reach the deep crevices of your mouth that you can't get to with a regular toothbrush at home. First, we'll remove all the tartar and plaque from the surface of your teeth using the scaler. We'll then use a gritty substance called prophylaxis paste to remove surface stains from your teeth. Lastly, we'll floss in between each of your pearly whites to remove food particles and plaque. With a healthy and freshened-up grin, you'll be ready to carry on with your day within an hour or so.
Why is it Important to Visit Your Dentist Every Six Months?
Nobody necessarily looks forward to visiting their dentist every six months for a checkup and cleaning, but at our office, our caring and compassionate team truly makes a positive difference in our patients' lives. We want to make sure our patients' oral health is in the best shape, which is why we're so thorough during this routine process. Here are some reasons you should be sure to see us semi-annually:
Control plaque and tartar buildup to prevent cavities.
Diagnose and treat gum disease early, before the symptoms can't be reversed.
Keep bad oral habits like smoking and teeth grinding in check.
Find problems hidden to the naked eye with dental X-rays.
Detect oral cancer before it's too late.
Our office is equipped with some of the most advanced dental technology so we can give our patients the best care possible. We also offer nitrous oxide sedation for patients who don't feel comfortable in the dentist's office. If you have any questions about your oral health or would like to schedule an appointment, don't hesitate to contact us today!