Cosmetic Bonding – Marlton, NJ
Invest in a Radiant Smile Today!
Is your smile a source of confidence or embarrassment? If you have less than attractive teeth, it is easy to feel insecure about your appearance. You do not need to hide behind their flaws. Your cosmetic dentist can help you get the smile of your dreams with cosmetic tooth bonding in Marlton. Also known as direct bonding, you can achieve drastic results using a minimally invasive solution.
What is Direct Bonding?
Direct bonding is a cosmetic treatment that uses a composite resin material to improve the color, size, shape, and proportion of your teeth. It is a popular choice over other treatments, like veneers, because it does not require you to permanently alter your teeth. Not to mention, you can achieve the drastic change you want in as little as one appointment with results that can last for several years.
How Can Dental Bonding Help Me?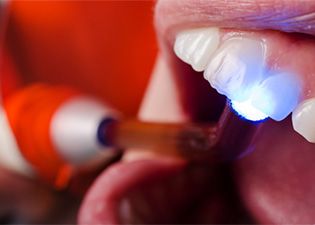 Cosmetic bonding holds a commonplace in cosmetic dentistry because your dentist in Marlton can use it to treat several issues, such as:
Fill cavities with an alternative to metal.
Hide dark tooth discoloration and stains.
Close gaps between teeth without brackets and wires.
Make shorter than average teeth appear longer.
Repair chipped or cracked teeth.
Cover tooth roots from a receding gum line.
What to Expect During Your Appointment?
After an initial consultation, we create a customized treatment plan to transform your smile. You may need more than one appointment depending on how many teeth you are treating. You can expect each session to last 30 to 60 minutes.
To begin the process, your teeth are cleaned, and we select the perfect shade for the resin material to match your enamel. A weak acid is applied to your teeth to open the pores in your dentin and your enamel for a secure bond. We apply the resin material to your teeth and sculpt it into the desired shape. A special light is used to quickly harden it. You will walk out of our office with a beautiful smile that lasts.
Recovery and Care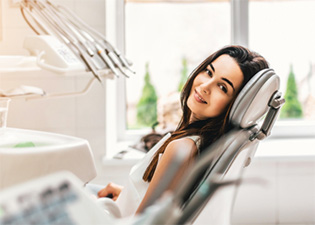 The resin material is durable to last for several years with the right care, but it can break or fall off over time. There are some simple ways you can care for the bonding to ensure your results last for as long as possible:
Brush your teeth twice a day for 2 minutes each session using a soft-bristled toothbrush and nonabrasive toothpaste.
Floss between each tooth daily.
Visit your dentist twice a year for a cleaning and checkup.
Avoid stain-causing foods and drinks to prevent discoloration.
Do not use your teeth as tools to open packages.
Do not chew on inedible objects.
Do not bite or chew overly hard or sticky foods.
Wear an athletic mouthguard if playing sports.
Invest in Your Confidence Today!
You do not need to hide behind your imperfections. You can get a smile you will want to show off with cosmetic bonding. Contact our office today to schedule your consultation.