Nightguards For Bruxism – Marlton, NJ
Protect Your Teeth From Damage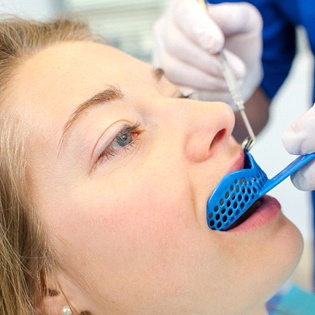 Waking up with a sore jaw or dull headache may seem like small side-effects of nightly grinding, but those are only a fraction of the harm that bruxism can cause your oral and overall wellbeing. Without the proper protection, grinding and clenching your teeth can cause serious oral damage that may last a lifetime, which is why our Dr. Petulla and Dr. Kazemi offer customized protective mouthguards to wear while you sleep. With the right defense, you'll be able to preserve your tooth enamel, ward off oral health problems, and enjoy your natural pearly whites for years to come. If you feel as though you could benefit from a nightguard for bruxism, don't hesitate to contact our office today to find out more about the process.
How Can You Tell if You Grind Your Teeth?
Millions of children and adults in America grind their teeth, but not all patients are able to get their condition diagnosed because they aren't sure what symptoms and signs to look out for. Because teeth grinding typically occurs at night, it can be hard to notice unless your partner or family member happens to overhear you. Here are some symptoms to keep an eye out for at home, so you know when it's time to visit our office:
When your partner or family member hears grinding noises.
Waking up with a sore jaw.
Experiencing pain while chewing food.
Having difficulty staying asleep.
Noticing that your teeth are visibly worn down.
Dental sensitivity that makes it uncomfortable to consume hot and cold items.
A dull and pounding headache when you wake up.
What are Nightguards for Bruxism?
If you visit our office and feel as though you have bruxism, we'll conduct a thorough examination of your mouth to make sure that no permanent damage has been caused. We'll then discuss preventive measures, such as getting a customized nightguard to wear while you're sleeping.
Typically, the process of getting a protective mouthguard takes place over the course of two appointments. During the first, we'll take impressions of your teeth to send off to our dental laboratory. There, they'll use high-quality materials that are specially chosen because they're durable, cushioned, and can withstand everyday use. When we call you in for your second appointment, we'll show you how to use your nightguard and clean it.
What are the Benefits of Getting a Custom Nightguard?
Many patients wonder why it's important to visit their dentist in Marlton for a protective nightguard instead of getting one from their local pharmacy. Although customized mouthguards have a higher up-front cost, they're a safer and more cost-effective choice in the long run. Some benefits of getting a nightguard from your dentist that's specifically fitted for your unique dental structure include:
Maximized protection due to a precise fit.
Headache prevention.
Reduced tension in facial muscles.
Prevention of damaged teeth.
Better quality of rest.
Long-term financial savings.
If you have any questions about how to protect your teeth from nightly grinding or have suspicions that you have bruxism, don't hesitate to contact our office today.