Sedation Dentistry – Marlton, NJ
Make Your Next Appointment Stress-Free & Comfortable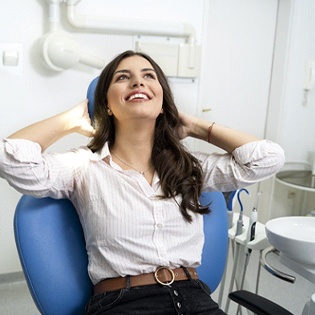 Do you avoid getting dental care because you're anxious or afraid? You're not alone. Millions of people suffer from dental phobia or anxiety, enough so to keep them from achieving optimal oral health. Fortunately, Dr. Petulla, Dr. Kazemi, and their dental team in Marlton, NJ have years of experience working with patients to help them achieve their dental health goals in complete comfort and relaxation, no matter how anxious they are.
For many patients, this can be as simple as taking the time to listen to their concerns, answer any questions they have, and ensure their complete confidence in the treatments we recommend. For others, we have complimentary nitrous oxide sedation available to help create a calm, comfortable environment. This safe, reliable, and fast-acting type of dental sedation can make your next appointment stress-free and comfortable! Give us a call today to learn more and discover if it's a good choice for you.
Who Is a Good Candidate for Nitrous Oxide Sedation?
Also known as laughing gas, nitrous oxide sedation is one of the most popular types of sedation used in dentistry. One reason for this is because it can help soothe a wide variety of patients, and most qualify as good candidates right away. Our complimentary nitrous oxide is usually a great choice for patients who:
Need some help to relax in the dental chair
Feel nervous or scared during dental treatment
Have sensitive teeth or an overactive gag reflex
Get neck, back, shoulder, jaw, or other pain sitting in the dental chair
Have difficulty sitting still for long periods of time
Plan on completing many treatments at once or are undergoing a complex procedure
We offer nitrous oxide sedation options for children as well as adults. However, we typically do not recommend it for very young or old patients, patients who are pregnant, or those with certain respiratory illnesses or conditions.
How Does Nitrous Oxide Sedation Work?
Nitrous oxide can be used during practically any type of dental treatment, from simple cleanings to more extensive restorations. Best of all, our nitrous oxide sedation is complimentary, so you can choose to use it whenever you feel like you could benefit from it. Nitrous oxide sedation is a colorless, odorless gas that can be inhaled through a small nasal mask during treatment. Within moments of breathing it in, you'll begin to feel light, warm, and relaxed. You'll remain conscious enough to answer simple questions and respond to basic instructions, but you'll be oblivious to the sensations that would otherwise make you uncomfortable. We'll monitor you closely and can adjust your level of sedation at any time to ensure you stay as safe and comfortable as possible.
Aftercare for Nitrous Oxide Sedation
Once your treatment is done and we remove the nose mask, you'll return to your typical alert state within just a few moments. Nitrous oxide has no lingering effects, so you will be able to drive yourself home from your appointment and carry on with your day without interruption. On rare occasions patients may feel slightly nauseous for a little while after using nitrous oxide sedation, but the vast majority of patients experience no side effects whatsoever.