Meet Marlton General Dentist, Jennifer L. Kazemi, DMD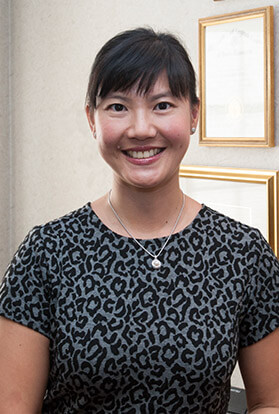 Our practice pulls talent from all walks of life, from those who have lived in South Jersey all of their lives, to those who have had a unique cultural upbringing. Dr. Jennifer L. Kazemi, whose parents emigrated from Taiwan, has always understood the importance of having and receiving good dental care.
We hope that after learning more about the story of what brought Dr. Kazemi into dentistry, you will feel inclined to strike up a conversation with her!
Why I Became a Dentist
During her childhood, Dr. Kazemi understood from the stories her parents told her, that they did not receive quality dental care while growing up in Taiwan. Whenever they had a toothache, the solution was to have the tooth extracted. Because of their own experiences, her parents made sure that she and her older brother had the best dental care possible, so that they would never have a terrible or traumatizing experience.
Ironically, the dentist her parents chose lived right in their neighborhood! Every visit to his office was a pleasant one, but what really sparked Dr. Kazemi's interest in dentistry was when she found out she needed braces. After completing treatment with a female orthodontist, and having her smile transformed, Dr. Kazemi realized that she could one day see herself providing care for others in the same gentle and kind way!
My Educational Background
By the time Dr. Kazemi started her undergraduate education at the University of Pennsylvania, she was certain that she wanted to become a dentist. Through some research, she found out that there was an opportunity to submatriculate with the University of Pennsylvania School of Dental Medicine, and finish her undergraduate and dental degrees in just seven years! After doing so, Dr. Kazemi received her Doctor of Dental Medicine (D.M.D.) degree in 2000, and decided that general dentistry was the right path for her. She continued her education by completing a General Practice Residency at Virtua Hospital in 2001. After residency, Dr. Kazemi worked in private practice, while also inspiring future dentists in the pre-doctoral clinic as a Clinical Associate Instructor at the University of Pennsylvania School of Dental Medicine.
As part of her continuing education, Dr. Kazemi has traveled to the Nobel Biocare Headquarters in Yorba Linda, CA, to study the design and restoration of Nobel Biocare implants, as well as to Gothenburg, Sweden, to the Astra headquarters for a comprehensive course on the design and prosthetic components of Astra implants.
In 2015, Dr. Kazemi was fortunate enough to join Dr. Petulla and her team. In addition to attending numerous continuing education courses, both dentists are fully trained to use the 3M True Definition Scanner, a device used to fabricate crowns and bridges.
My Life Outside the Practice
Dr. Kazemi is married to her husband, Shahin, a well-established periodontist in Cherry Hill, NJ. They have two children, a son and a daughter. When she's not helping patients improve their oral health, Dr. Kazemi is likely making time to take a run or do Zumba, attend her son's soccer game, watch her daughter perform a gymnastics routine, or settle down with a good book after a long day.
Traveling to other countries and learning about other cultures is one of Dr. Kazemi's favorite pastimes. She and her family have traveled to over 13 different countries so far, including Italy, England, Belgium, Greece, and Taiwan! They hope to visit many more in the future.
The next time you visit the practice, whether for a routine cleaning or dental restoration, please feel free to say hello to Dr. Kazemi and learn more about her!