Advanced Dental Technology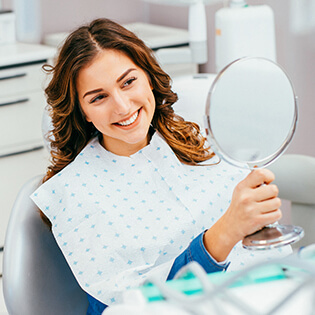 Most of our patients are surprised by how innovations in dental technologies have improved the comfort and effectiveness of their care in our office. At the dental practice of Kristin B. Petulla, DDS and Jennifer L. Kazemi, DMD, we incorporate numerous systems that have a profound impact on how patients relate to their oral health. Read on to find out more about the dental technologies we'll use at your next visit, and give us a call if you have any questions or would like to schedule an appointment in our state-of-the-art office.
Intra-Oral Camera
We use photographs of the tooth structures to improve our ability to communicate with patients about their oral health. It's much easier to show patients the areas of excessive wear, tooth decay, gum inflammation, or other concerns rather than doing our best to explain what we see. We use the Polaris digital imaging system in our office. The intra-oral camera is very small, about the size of a pen, so we can capture clear photos of teeth inside the mouth. Our hope is that this will give our patients more confidence and understanding of the treatment we are suggesting.
Digital X-Rays
What intraoral photography has done for showing patients the surfaces of their smile, digital x-rays allow us to do for the inner structures of smiles. We use digital x-rays as an advanced diagnostic tool that allows us to pinpoint areas of decay or damage in their earliest stages. Then, we can provide conservative treatment options to repair smiles. A benefit from using digital x-rays is that, because they take less time, there is less radiation for our health-conscious patients. Our office uses the Scan-X digital x-ray system from Visix to provide clearer, safer, higher quality x-ray images.
Digital Impression System
Traditional bite impressions were captured using a putty-like material and having patients bite into it, leaving impressions of their smiles behind. The digital version uses computer assisted design to scan even the minutest crevices in teeth, creating a flawless digital impression of the tooth. We use the True Definition digital impression system. Digital impressions decrease overall treatment time because they are instantly available in electronic formats for our lab.