Dental Implants – Marlton, NJ
High-Quality, Long-Term Tooth Replacement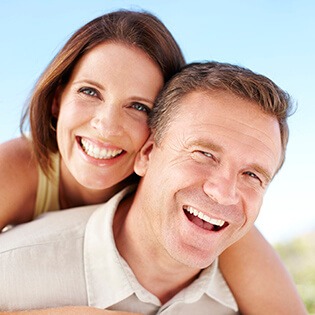 The goal of dentistry is to help you keep your natural teeth for as long as possible, but sometimes, teeth have to be removed due to factors outside of your control. If you're missing teeth, you may have tried bridges or dentures only to discover how unreliable they can be. Dental implants, on the other hand, are rapidly becoming the treatment of choice for millions of Americans with missing teeth. Teeth supported by dental implants are sturdier, more lifelike, and longer lasting than traditional prosthetics. To learn more about how dental implants in Marlton can help you, contact our office today!
Why Choose Kristin B. Petulla, DDS & Jennifer L. Kazemi, DMD for Dental Implants?
Works with Highly Trained Dental Implant Experts
Prioritizes Patient Comfort & Safety
Takes a Holistic Approach to Dental Care
What Are Dental Implants?
A dental implant consists of three parts:
A titanium post that acts as a substitute tooth root
A metal connector piece called an abutment
A custom-made replacement tooth or teeth (restoration)
Together, these three parts recreate the entire structure of one or more missing teeth. In fact, dental implants are the only option to do so. By surgically placing the implant post in your jawbone and securing a restoration onto it, your new tooth will look, function, and feel much more natural than dentures or bridges alone. Plus, it can last much, much longer!
That's why most dentists, including Dr. Petulla and Dr. Kazemi, will recommend dental implants as a solution to all suitable patients.
The 4-Step Dental Implant Process
Although getting dental implants can take several months, the benefits they offer make them well worth the wait. Our practice utilizes state-of-the-art technology and techniques to ensure you receive the highest quality care possible. After your procedure is done and you have your restorations placed, you'll be able to enjoy your full smile again. Everyone's tooth replacement journey will look a little different, but there are four basic steps you can expect in the treatment process. Read along to learn more about how dental implants work in Marlton!
Initial Dental Implant Consultation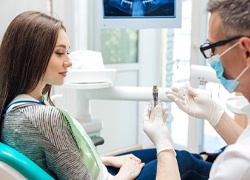 The first part of the process is to schedule a consultation with our dental team. During this appointment, we will evaluate your oral health, review your medical history, discuss your smile goals, and determine if dental implants are the ideal solution for you. In some cases, patients may require preliminary treatments to ensure they're a good candidate for the procedure, such as gum disease therapy and bone grafting. Once we've addressed any underlying issues, we'll develop a detailed treatment plan for your entire process.
Dental Implant Surgery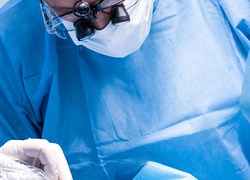 Placing your dental implants will involve minor oral surgery. Your dentist in Marlton will first make sure your mouth is completely numb before starting any work. Once we ensure that you're nice and comfortable, they'll make a small incision in your gums to access your jawbone. The titanium post will then be embedded directly into your jawbone in the proper location before your dentist closes the gums around it. We'll then place a cap over the implant to both protect it and preserve the natural shape of your gum line. Afterward, you'll be sent home to recover.
Dental Implant Osseointegration & Abutment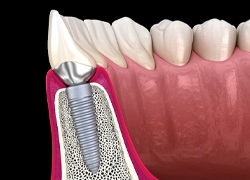 Your dental implants will undergo osseointegration over the following several months. Due to the metal posts being constructed out of biocompatible titanium, they will gradually start to bond with your jawbone, becoming part of the bone tissue. If done successfully, this will provide your pearly whites with a strong, stable, and natural-feeling foundation. Osseointegration typically takes around three to six months, depending on your oral health, how well you care for your teeth, and your lifestyle choices. Once this process is completed, a small connector piece will be placed atop your dental implant. We will be fabricating your new teeth while you're recovering from this step over several weeks.
Delivery of Dental Implant Restoration(s)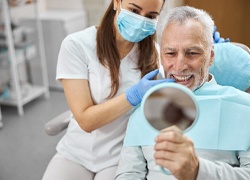 After your dental implants are finished being constructed, we'll call you back into our office for the final portion of your treatment. On this visit, we'll fix your chosen dental restoration (e.g., crown, bridge, partial, or denture) to your titanium post(s) by way of the abutments we placed during your last appointment. We'll then test your bite and ensure your results are comfortable after we've secured them in place. Once we know you're satisfied with our work, we'll be happy to answer any questions you might have regarding your restored smile before sending you on your way to enjoy your brand-new pearly whites!
Who Dental Implants Can Help
When considering dental implants, it's important to know that there is no "one-size-fits-all" treatment. Once you meet with your dental implant dentist in Marlton, we can personalize your treatment in a way that will work for your smile and help you achieve desired results. It is during this initial meeting that you will learn about the process of dental implant placement as well as if you require preliminary treatments to improve the state of your oral health for successful treatment later on. As long as you have good general oral and overall health, there is likely change you will be recommended for dental implants.
Who Is a Good Candidate for Dental Implants?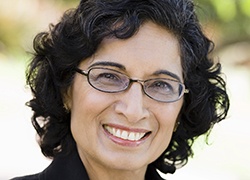 When visiting for your initial consultation, you can expect your dental implant dentist in Marlton to consider various factors that will determine if you are a qualified candidate for treatment. Once we've had a chance to review your oral structures and craniofacial features, we will factor in these specific elements to determine if you qualify for treatment:
Good oral and overall health – You will need to be healthy enough to have minor oral surgery and not show signs of decay, cavities, or gum disease.
A healthy, strong jawbone – Because this is the foundation for your dental implants in Marlton and customized restoration, you will need to have enough density within your jawbone to adequately support your posts.
A dedicated outlook for good oral hygiene – Committing to taking care of your implants is vital to ensure their health and longevity. You'll also want to break any bad habits (i.e., smoking, excessive alcohol consumption, nail-biting, eating ice, chewing on pens and pencils, using teeth as tools) if you want to keep your implants in optimal shape for as long as possible.
Do not worry if you don't believe you are a qualified candidate for treatment. Our team can examine your smile and facial structure to recommend helpful solutions that will put you one step closer to achieving a healthy, beautiful, and complete smile.
Because dental implants are known for their versatility, many patients choose them because they can address all types of tooth loss, such as:
Missing 1 Tooth
It is estimated that more than 120 million people have at least one missing tooth. Yes, a fixed bridge is a possible solution to replace a single missing tooth; however, a single tooth dental implant can ensure a more natural, permanent solution for your smile. By inserting a single titanium post into the vacated socket, we can then place a metal abutment and customized dental crown on top. This not only allows for a seamless procedure, but it keeps your natural, healthy teeth perfectly intact.
Missing Multiple Teeth
When faced with multiple missing teeth along an arch, we can use an implant bridge to repair and rebuild your smile. There are many reasons you may be missing more than one tooth (i.e., congenital issue, decay, or even facial trauma). No matter the reason, we can create an implant bridge or implant partial denture to not only replicate the missing teeth but actually restore the structure from the root up. Relying on nearby adjacent teeth is no longer necessary (like it is with a fixed bridge or partial denture). Instead, your regular teeth will remain firmly in place while your implant bridge or partial will be affixed to the tops of your implants, which are fused with the jawbone and surrounding tissues.
Missing All Teeth
Missing an entire row of teeth along the top or bottom row can be difficult. Fortunately, with an implant denture, we can replace all of your missing teeth and give you greater chewing power and bite force, allowing you to enjoy all your favorite foods. Even if you require a few teeth to be removed, our ability to restore your smile with the help of implants can give you the confidence you need to embrace a better quality of life. Requiring only 4-6 implants to keep your denture in place, you will be free to enjoy social gatherings and photo-taking opportunities with family and friends again. And the best part is you'll never have to worry about them slipping or falling out!
Understanding the Cost of Dental Implants
While dental implants can absolutely be an excellent option for replacing lost teeth, many patients may be concerned about the costs involved. How much will you need to pay for your new smile? It can be hard to give a general answer to this question because each case is different. At an implant consultation, Drs. Kristin B. Petulla and Jennifer L. Kazemi can help you figure out the various factors to help you get affordable dental implants in Marlton.
Types of Dental Implants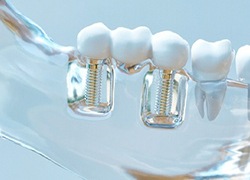 Every patient has different needs, and there is no universal solution for treatment. Maybe you're only missing a single tooth and will only need to get one implant post with a crown. Or perhaps you'll need a dental bridge and two implants that can take the place of three or four teeth in a row. Sometimes, if an entire row of teeth is gone, you can get dentures supported on four to six implants.
Obviously, each of these situations will incur a different cost. That's not even factoring in the different materials and elements used for different kinds of placement (e.g., whether the front or back teeth are being replaced). We'll discuss these various factors during your consultation to begin forming an estimate.
Stages of Dental Implant Treatment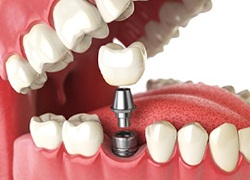 Each stage of placing a dental implant will have its own costs. Some patients might need bone grafts, periodontal treatment, or other procedures in order to make sure the mouth and jawbone are healthy enough for implants to be successful. After that, the actual placement process will include:
Surgery to place the implant posts in the jaw
The addition of an abutment that will connect the post to the restoration
Placement of the crown, bridge, or denture
We will work with you to determine the necessary steps and the individual costs of each one.
Why Dental Implants Are Worth the Investment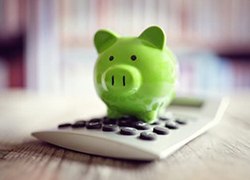 While dental implants do initially cost more than traditional prosthetics, over the long term they're definitely worth the investment. Some of the benefits include:
Long-Lasting: Dental implants can last for many years – even a lifetime in some cases – with very little need for maintenance beyond normal brushing and flossing as well as biannual checkups. In comparison, regular bridges and dentures will likely need to be replaced more often, meaning you may ultimately end up spending less on implants than you would for other treatments.
Preventing Bone Loss: Traditional dentures and bridges can't prevent the bone loss in the jaw that occurs when teeth are missing. Implants, on the other hand, help keep the jawbone strong and prevents related health issues – and the costs associated with them.
Comfortable and Natural-Looking: Dental implants anchor your new teeth firmly in place with none of the slipping that happens with natural dentures. Since the metal implant is below the gumline, most people won't be able to tell you've had dental work done.
Dental Implants & Dental Insurance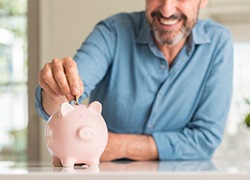 Most insurance plans won't pay for dental implants, although some of the related steps—such as a consultation with your implant dentist in Marlton—may be partially covered. Our office can offer several options, such as low to no-interest payment plans through the Lending Club, so feel free to ask during your consultation.
Dental Implant FAQs
We understand that getting dental implants is a huge investment into the future of your smile. That's why, for your convenience, we have gathered some of the dental implant questions we get asked the most often and decided to answer them here.
I smoke. Can I still get dental implants?
Yes, but your chance of dental implant failure increases significantly. In fact, dental implant recipients who smoke are up to four times more likely to experience implant failure than those who don't smoke. This is because tobacco slows down the body's natural healing processes that allow the jawbone to grow around the implant post. Smoking also leads to gum disease, which weakens the implant over time and may cause it to fail. More often than not, dentists will recommend that dental implant candidates quit smoking or chewing tobacco before and after receiving an implant.
Will people be able to tell I have dental implants?
The great thing about implants is that they are pretty much indistinguishable from natural teeth, even to you. Once the implant post has fused with your jawbone, it will feel like another part of your anatomy. After the integration process is complete, the implant will be restored with a realistic-looking crown, bridge, or denture, depending on how many teeth need replacing. The restoration will be perfectly matched to your remaining natural teeth, so it will blend right in with the rest of your smile. Unless you go talking about how easy the process was, no one will even be able to notice you have dental implants!
Do dental implants require special care?
The good news is that implants don't require much extra work to take care of than your natural teeth do. The best way to make sure that your implants last a lifetime is to brush and floss them regularly, and schedule regular biannual checkups with Dr. Petulla or Dr. Kazemi. That way we can make sure your implants are still functioning properly. You have to take extra care to floss under the implant restoration to make sure your gums remain healthy and do not compromise your implant, but other than that, simply take care of it like you would a natural tooth.
Is dental implant surgery painful?
The answer to this question is different for everyone. Some patients experience only minor discomfort, especially if they're only receiving a single implant. Patients who undergo a bone graft or several implants at once may experience more discomfort. Based on how complex your surgery will be, you will be prescribed pain relievers or given instructions for how much over-the-counter pain medication you should take. In addition, you may be given local or general anesthesia to lessen the pain of the procedure itself.
Am I too old to get dental implants?
No, there is no upper age limit to getting dental implants. Some patients, particularly those still in adolescence, might be too young, as their tooth roots and jawbones are still developing, so it might not be a great idea for them to receive implants. Rest assured, however, that no matter how old you are, as long as you are an adult, you can still get dental implants to restore look, form, and function back to your smile.
Maintaining & Caring for Your Dental Implant
One of the main reasons why dental implants are as popular as they are is their remarkable longevity. While dentures and bridges typically have to be replaced every 5 to 10 years or so, implants can last for the rest of your life! However, this is only true if you practice proper dental implant care in Marlton. Fortunately, many of the same practices that keep your natural teeth in good shape also work on implant-supported teeth. To learn more about how to make your dental implants last, contact us today!
Prioritize At-Home Oral Hygiene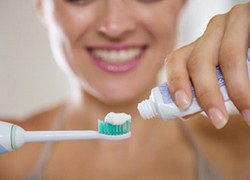 While you won't have to worry about getting cavities in your implant-retained teeth, oral hygiene is still crucial. Bacteria in your mouth can still infect the gums supporting the implant. This condition, known as peri-implantitis, is actually the most common reason for implant failure.
To keep your implant and gums in good condition, brush your teeth twice a day and floss at least once a day. If your implant is in a place that's hard to floss, you can try using an interdental brush or a water flosser to clean out the area. Additionally, rinsing with mouthwash is a great way to eliminate bacteria in parts of your mouth that your toothbrush and floss can't reach.
Eat a Healthy Diet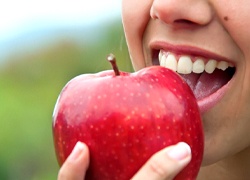 Since dental implants can restore 80% or more of your natural chewing power and won't slip out of place while you eat, you can enjoy a full, varied, and healthy diet with all your favorite foods! While you can easily eat apples, steak, nuts, and anything else on your plate, it's a good idea to choose your foods carefully for the longevity of your dental implants. Overindulging in particularly hard foods can wear down your restoration, and eating too many sugary or carb-heavy snacks can increase your risk of peri-implantitis.
Put your new biting force to good use by eating a balanced diet instead. Foods like lean proteins, fruits, vegetables, and low-fat dairy products all contain important vitamins and minerals that will help keep your oral health on track and extend the lifespan of your dental implant. Specifically, foods with calcium will help keep your jawbone and remaining teeth strong, items with vitamin C will encourage healthier gums that keep infection at bay.
Break Bad Habits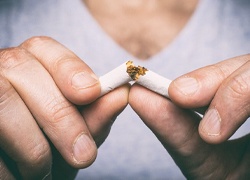 If you're serious about making the most out of your newly rebuilt smile, then you'll need to break some bad habits. One of the most important to commit to is quitting tobacco. Smoking or chewing tobacco can cause serious problems for your overall health, and it leaves your mouth vulnerable to infection and peri-implantitis. Tobacco also slows down your natural healing process, which can interfere with osseointegration and lead to dental implant failure. There are plenty of reasons to quit tobacco, including keeping your dental implants for life.
Additionally, you should be mindful of how you're using your teeth in general. Teeth should pretty much only be used for chewing. Munching on ice, opening packages or bottles with your teeth, and biting down on extremely hard foods like popcorn kernels and nuts can cause serious damage. If you want to avoid the hassle of a broken or cracked restoration, only use your teeth for smiling and eating.
Protect Your Dental Implants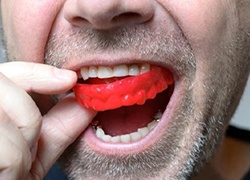 If you play a high-contact sport, such as football or rugby, there is a chance of sustaining an oral injury that could compromise your dental implants in Marlton. You might even have to get them removed. To prevent this, make sure to wear a mouthguard whenever you play sports.
Similarly, chronic teeth grinding (bruxism) can also put your implants at risk. For most patients, this habit occurs while sleeping, making it impossible to control. Luckily, our dentists can provide you with a custom nightguard. This plastic tray fits comfortably over your teeth to create cushioning between your top and bottom arches. Not only will a nightguard protect your dental implants, but it will also prevent the enamel erosion and jaw pain that often comes with bruxism.
Schedule Regular Dental Checkups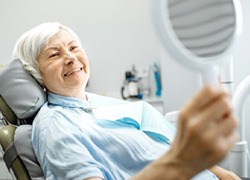 Even if you don't have any natural teeth left, you should still schedule at least two checkups and cleanings a year. In addition to cleaning and examining any teeth you may have left, your implant dentist in Marlton will make sure your implants are still functioning properly. These appointments are important because the sooner we find any potential problems, the easier and more successful treatment should be.