Dental Implants in Marlton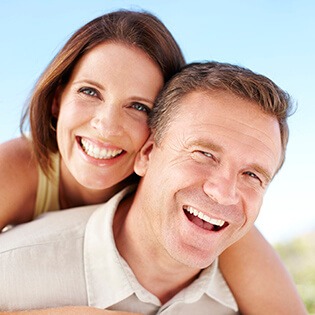 Implant Dentistry is rapidly becoming the procedure of choice for patients seeking premium restorations and long-term endurance of reconstructive treatments. Dental implants also provide optimal dental function that, in many cases, surpasses what Mother Nature provides. Our dental reconstruction team uses a variety of proven implant technologies for replacing individual teeth, replacing several teeth, creating implant anchors for premium bridges, and the now popular use of mini implants or standard implants for anchoring dentures and advanced prosthodontics.
Implants - Unsurpassed Endurance and Function
While it is well known that implants recreate smiles or restore dental function, the technical aspects of implants are often overlooked. The application of certain implant procedures, combined with the correct implant materials is what determines how successful the treatment will be and how long it endures. We assure each and every patient that the implant procedure precisely matches the cosmetic and reconstructive goal of the patient. Nobel Biocare, well known for its implant technologies, is aware of the differences in patients' needs, and thereby provides a wide variety of implant materials and technologies that are used for creating personalized treatment plans.
Implant Dentistry - One Size Does Not Fit All
When considering dental implants, it is important to know the different types of implant materials used for anterior (front) tooth replacement, implants for anchoring various types of bridgework, and implant elements for posterior (back) teeth and molars. It should be understood there is no "one size fits all" concept in the use of implant devices. This critical matching process of technology and application is monitored closely by the dental treatment team to assure implant patients' maximum health benefits and cosmetic results and perhaps more importantly, long-term endurance and bite.
Reported failures of implants are usually attributed to poor matching. Providing choices and the information needed for making an informed decision about dental treatment is a primary goal of our team when working with every single patient. Our office typically provides patients a variety of treatment options based on their individual needs and the degree of cosmetic and functional results desired.
Contact Dr. Petulla, Dr. Kazemi, or our team today to make arrangements for a dental implant consultation to determine the choices you may have as a tooth replacement patient. You can also use our Appointment Request Form for making these arrangements. Have a particular question in mind? We invite you to contact our doctors directly with our online Ask the Dentist Form, to obtain some answers to your dental questions. Additionally, you can read on to find out more about our dental implant-supported tooth replacement solutions.
Implant-Supported Crown & Bridge
Patients missing between one and four consecutive teeth will need to receive a dental implant- supported dental crown or fixed bridge tooth replacement prosthetic. A single dental implant attached to a crown can be used to replace one tooth, and in many cases, two crowns can be fused together and supported by a single implant post. Those patients missing three or four consecutive teeth will need at least two dental implant posts, one to support each end of the fixed bridge.
Implant-Supported Dentures
For those who have more advanced tooth loss, a dental implant-supported partial or full denture may be a better option. Like their traditional counterparts, these restorations are created using a gum-colored base to support a number of replacement teeth. The base materials are formed to fit between healthy teeth or snuggly against the gum line as the case calls for. The dental implant- supported versions offer improved stability, greater ability to chew and digest a wide variety of foods, and more natural feel and function.
All-on-4 Implants
Like the name suggests, All-on-4 dental implant-supported tooth replacement solutions use just four implant posts to support a full or partial denture. The All-on-4 procedure is unique because it harnesses the naturally denser parts of the jawbone at the front of the mouth to support the entire denture. This makes it possible for patients who would otherwise have been unable to receive implant-supported tooth replacement or who may have needed bone grafts, to become successful dental implant candidates.
Dental Implant FAQs
We understand that getting dental implants is a huge investment into the future of your smile. That's why, for your convenience, we have gathered some of the dental implant questions we get asked the most often and decided to answer them here.
I Smoke. Can I Still Get Dental Implants?
Yes, but your chance of dental implant failure increases significantly. In fact, dental implant recipients who smoke are four times more likely to experience implant failure than those who don't smoke. This is because tobacco slows down the body's natural healing processes that allow the jawbone to grow around the implant post. Smoking also leads to gum disease, which weakens the implant over time and may cause it to fail. More often than not, dentists will recommend that dental implant candidates quit smoking or chewing tobacco before and after receiving an implant.
Will People Be Able to Tell I Have Dental Implants?
The great thing about implants is that they are pretty much indistinguishable from natural teeth, even to you. Once the implant post has fused with your jawbone, it will feel like another part of your anatomy. After the integration process is complete, the implant will be restored with a realistic-looking crown, bridge, or denture, depending on how many teeth need replacing. The restoration will be perfectly matched to your remaining natural teeth, so it will blend right in with the rest of your smile. Unless you go talking about how easy the process was, no one will even be able to notice you have dental implants!
Do Dental Implants Require Special Care?
The good news is that implants don't require much extra work to take care of than your natural teeth do. The best way to make sure that your implants last a lifetime is to brush and floss them regularly, and schedule regular biannual checkups with Dr. Petulla. That way we can make sure your implants are still functioning properly. You have to take extra care to floss under the implant restoration to make sure your gums remain healthy and do not compromise your implant, but other than that, simply take care of it like you would a natural tooth.
Is Dental Implant Surgery Painful?
The answer to this question is different for everyone. Some patients experience only minor discomfort, especially if they're only receiving a single implant. Patients who undergo a bone graft or several implants at once may experience more discomfort. Based on how complex your surgery will be, you will be prescribed pain relievers or given instructions for how much over-the-counter pain medication you should take. In addition, you may be given local or general anesthesia to lessen the pain of the procedure itself.
Am I Too Old to Get Dental Implants?
No, there is no upper age limit to getting dental implants. Some patients, particularly those still in adolescence, might be too young, as their tooth roots and jawbones are still developing, so it might not be a great idea for them to receive implants. Rest assured, however, that no matter how old you are, as long as you are an adult, you can still get dental implants to restore look, form, and function back to your smile.