Smile Reconstruction
Orthodontics and Smile Dynamics
Just about everyone is familiar with orthodontics. It is common treatment for children and pre-teens during critical developmental years who show certain patterns of abnormal bite, alignment or occlusion developing.
Traditional braces, expanders and retainers are used, as needed, to make changes in the relationships between the upper and lower jaws. Successfully managed treatment usually results in proper dental function.
Delayed Treatment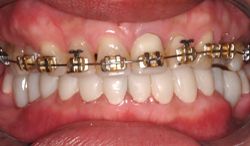 As with practically any dental treatment, delays in correcting or replacing things that Mother Nature usually manages can cause almost unpredictable results in the future. Poorly aligned teeth, missing teeth, overbites and underbites can cause actual tooth damage and occlusal damage as we age.
Our patient, a forty-something year old woman, presented in our office with a very simple request. Although she knew she had a number of problem issues... her treatment request was for an extreme, or full mouth makeover.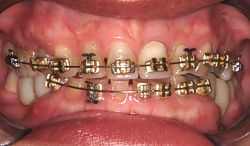 As with many patients in large families, certain dental treatments are not obtained in the timely fashion that we would prefer. She had reached a point where she didn't like to smile and was very self conscious of her teeth and bite.
Our two pretreatment photos show the amount of damage that is apparent from the front... and especially from the profile view. Poorly or maligned jaw structures were causing unusual wear and tear on most tooth structures that was becoming irreparable.
The upper teeth on the left side of her maxilla were worn down significantly more than the right side, indicating the extent and degree of malocclusion and poor distribution of biting forces.
Night time bruxing was further complicating the problems. Bruxing often occurs as a result of having poor occlusion. Left untreated for too long, the bruxing causes increased occlusion abnormalities and eventual destruction and individual tooth breakage.
Joint Orthodontic - Reconstructive Dentistry Consult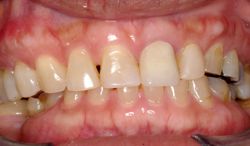 Due to the extent and unusual characteristics of the damaged tooth structures, Dr. Petulla conducted the initial consultation with an Orthodontist. Our patient learned the dynamics of her early occlusal problems and the cumulative effects upon nearly all tooth structures.
While the reconstructive treatment would necessarily include adult orthodontics, the patient was able to participate in the design of her new smile.
From a menu of various types and brands of restorative porcelain products available through our labs, the patient selected premium grade D+Sign PFM Gold Crowns and custom gold frame bridgework.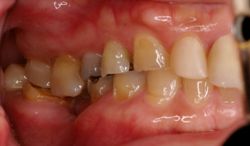 Gold finish orthodontics braces and pads were also selected as the favored appliances for straightening and realigning her teeth. The orthodontic adjustments and occlusal normalization was completed in 12 months.
Periodontic gingival recontouring was provided on a tooth by tooth basis to create the precise harmony the patient wanted for her entire custom designed smile.
The new crowns and realignment of the biting surfaces will be adding approximately 4mm of height to her bite and smile.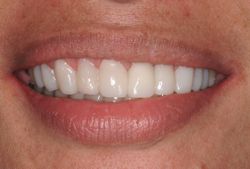 The adjacent photo shows the new temporary "try-ins" that the patient has been fitted with. During the next several days, final adjustments, based on the patient's input, will be made for perfecting the overall Smile Line (Rules of Golden Proportion) and aesthetic qualities of the porcelain restorations.
The Makeover Experience
Cosmetic makeovers in dentistry can be achieved with a number of products and treatments that can affect appearance, dental function or both. The "experience" of a makeover, when substantial, can begin to affect patients in very dramatic ways. Changes in behavior, social interactions and self confidence can often be seen for some patients.
The occlusal corrections and degrees of cosmetic change for this patient had an almost immediate affect upon her self confidence and the ability to smile spontaneously.