Cost of Implants – Marlton, NJ
The Right Price for New Teeth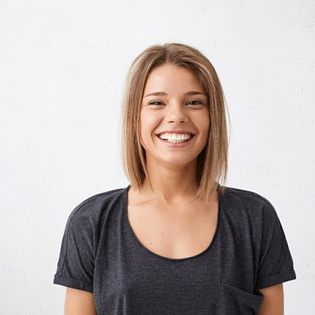 While dental implants can absolutely be an excellent option for replacing lost teeth, many patients may be concerned about the costs involved. How much will you need to pay for your new smile? It can be hard to give a general answer to this question because each case is different. At an implant consultation, Drs. Kristin B. Petulla and Jennifer L. Kazemi can help you figure out the various factors to help you get affordable dental implants in Marlton.
Types of Dental Implants
Every patient has different needs, and there is no universal solution for treatment. Maybe you're only missing a single tooth and will only need to get one implant post with a crown. Or perhaps you'll need a dental bridge and two implants that can take the place of three or four teeth in a row. Sometimes, if an entire row of teeth is gone, you can get dentures supported on four implants.
Obviously, each of these situations will incur a different cost. That's not even factoring in the different materials and elements used for different kinds of placement (e.g. whether the front or back teeth are being replaced). We'll discuss these various factors during your consultation to begin forming an estimate.
Stages of Dental Implant Treatment
Each stage of placing a dental implant will have its own costs. Some patients might need bone grafts, periodontal treatment or other procedures in order to make sure the mouth and jawbone are healthy enough for implants to be successful. After that, the actual placement process will include:
Surgery to place the implant posts in the jaw
The addition of an abutment that will connect the post to the restoration
Placement of the crown, bridge or denture
We will work with you to determine the necessary steps and the individual costs of each one.
Why Dental Implants are Worth the Investment
While dental implants do initially cost more that traditional prosthetics, over the long term they're definitely worth the investment. Some of the benefits include:
Long-Lasting: Dental implants can last for many years – even a lifetime in some cases – with very little need for maintenance beyond normal brushing and flossing as well as biannual checkups. In comparison, regular bridges and dentures will likely need to be replaced more often, meaning you may ultimately end up spending less on implants than you would for other treatments.
Preventing Bone Loss: Traditional dentures and bridges can't prevent the bone loss in the jaw that occurs when teeth are missing. Implants, on the other hand, help keep the jawbone strong and prevents related health issues – and the costs associated with them.
Comfortable and Natural-Looking: Dental implants anchor your new teeth firmly in place with none of the slipping that happens with natural dentures. Since the metal implant is below the gumline, most people won't be able to tell you've had dental work done.
Dental Implants and Dental Insurance
Most insurance plans won't pay for dental implants, although some of the related steps—such as a consultation with your implant dentist in Marlton—may be partially covered. Our office can offer several options, such as low to no-interest payment plans through the Lending Club, so feel free to ask during your consultation.