Dental Implant Aftercare – Marlton, NJ
Helping Your New Smile Last a Lifetime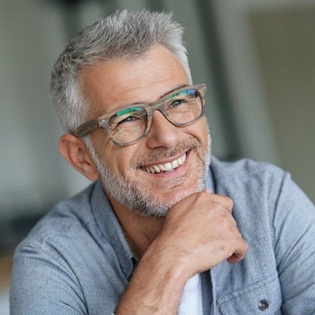 One of the main reasons why dental implants are as popular as they are is their remarkable longevity. While dentures and bridges typically have to be replaced every 5 to 10 years or so, implants can last for the rest of your life! However, this is only true if you practice proper dental implant care in Marlton. Fortunately, many of the same practices that keep your natural teeth in good shape also work on implant-supported teeth. To learn more about how to make your dental implants last, contact us today!
Prioritize At-Home Oral Hygiene
While you won't have to worry about getting cavities in your implant-retained teeth, oral hygiene is still crucial. Bacteria in your mouth can still infect the gums supporting the implant. This condition, known as peri-implantitis, is actually the most common reason for implant failure.
To keep your implant and gums in good condition, brush your teeth twice a day and floss at least once a day. If your implant is in a place that's hard to floss, you can try using an interdental brush or a water flosser to clean out the area. Additionally, rinsing with mouthwash is a great way to eliminate bacteria in parts of your mouth that your toothbrush and floss can't reach.
Protect Your Dental Implants
If you play a high-contact sport, such as football or rugby, there is a chance of sustaining an oral injury that could compromise your dental implants in Marlton. You might even have to get them removed. To prevent this, make sure to wear a mouthguard whenever you play sports.
Similarly, chronic teeth grinding (bruxism) can also put your implants at risk. For most patients, this habit occurs while sleeping, making it impossible to control. Luckily, our dentists can provide you with a custom nightguard. This plastic tray fits comfortably over your teeth to create cushioning between your top and bottom arches. Not only will a nightguard protect your dental implants, but it will also prevent the enamel erosion and jaw pain that often come with bruxism.
Lastly, be mindful of how you're using your teeth in general. Teeth should pretty much only be used for chewing. Munching on ice, opening packages or bottles with your teeth, and biting down on extremely hard foods like popcorn kernels and nuts can cause serious damage.
Schedule Regular Checkups & Cleanings
Even if you don't have any natural teeth left, you should still schedule at least two checkups and cleanings a year. In addition to cleaning and examining any teeth you may have left, your implant dentist in Marlton will make sure your implants are still functioning properly. These appointments are important because the sooner we find any potential problems, the easier and more successful treatment should be.