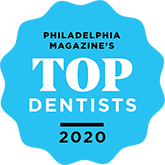 Whether you're new to the Philadelphia area or not, you're probably in search of an astounding dentist that has a vast portfolio and the recognition to back-up their skills. If that's the case, meet Dr. Kristin Petulla! Recognized as a top dentist in Philadelphia Magazine in 2020, she specializes in cosmetic treatments, like porcelain veneers, metal-free restorations, teeth whitening, and many others. Learn more about your award-winning dentist in Marlton by reading on.
Dr. Petulla's Training & Educational Background
It's safe to say that education and training is a must-have when you're looking for the best cosmetic dentist near you to visit for treatment. Dr. Petulla started out working in a dental laboratory creating prosthetics at 14 years old with her father, who was also a dentist. She always knew that dentistry was the right career path for her, and went on to achieve her Doctor of Dental Surgery degree at the University of Maryland School of Dentistry.
Today, Dr. Petulla continues sharpening her skills and staying up-to-date with the latest advancements in the dental world by being an active member in several professional organizations, as well as dedicating her free time to taking continuing education courses.
What Cosmetic Services Does Dr. Petulla Offer?
Dr. Petulla is proud to accept Philadelphia Magazine's 2020 Top Dentist recognition in cosmetic dentistry. She has always loved helping her patients regain confidence in their smiles by providing outstanding results that make their smile appear brighter, complete, and most importantly, healthy. Among a wide array of comprehensive dental services, these are some of her most popular cosmetic procedures:
Metal-Free Restorations
Teeth Whitening
Porcelain Veneers
Enamel Modification
Cosmetic Bonding
Dr. Petulla's Other Achievements & Awards
In addition to being named one of Philadelphia's Top Dentists from 2016 to 2020. Dr. Petulla has also received professional recognition from SJ Magazine's Best Dentist Award, as determined through an online voting program.
If you're interested in learning more about Dr. Petulla's background, or you'd like to schedule a consultation for a cosmetic treatment, don't hesitate to reach out to her office.