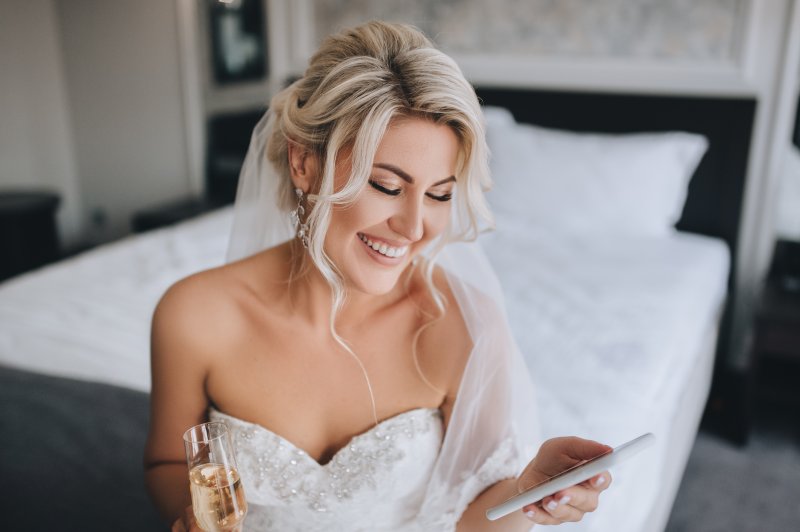 From the moment you get engaged to your final exit on your wedding night, your smile will be front and center. After all, loved ones and professional photographers alike will be snapping numerous pictures along the way to preserve each and every milestone. The good news is that if you're currently unhappy with your smile, you have time to get it in tip-top shape! With this in mind, here are four tips to get perfect teeth for your wedding!
#1. Get a Refreshing Cleaning
While a solid brushing and flossing routine will keep your teeth nice and clean on a day-to-day basis, only a thorough cleaning with your dentist will remove built-up plaque and tartar. Plus, their precise tools can clean the hard-to-reach areas of your mouth and remove stubborn surface stains. So, don't forget to schedule your six-month checkup and cleaning before the big day!
#2. Maintain a Solid At-Home Oral Care Regimen
From creating seating charts to purchasing décor, you have a lot on your plate heading into your wedding day. Amid all of the hustle and bustle, don't forget to maintain a solid oral care regimen. That includes brushing for two full minutes at least twice a day, flossing daily, and rinsing with mouthwash regularly.
#3. Avoid Dark-Colored Foods & Beverages
Coffee, marinara sauce, and wine are just a few foods and beverages that can make your once-white teeth look dull and yellow. To prevent that from happening, avoid dark-colored items like these as much as possible. When you do indulge in a morning iced coffee or evening glass of wine, make sure to use a straw to protect your teeth.
#4. Schedule a Consultation
If you're struggling with pigmented stains, obvious chips, and other dental imperfections that can't be addressed with the above best practices, then it's time to schedule an initial consultation with your cosmetic dentist. Depending on your smile goals, they can recommend everything from in-office teeth whitening to a smile-transforming snap-on smile! Since the treatment can take anywhere from a few hours to a couple of months to complete, it's best to get started sooner rather than later. That way, you have plenty of time to get the smile of your dreams by your wedding day!
About the Practice
Led by Dr. Kristin B. Petulla and Dr. Jennifer L. Kazemi, our Marlton dental team is united behind our passion for providing nearby patients with the dazzling smile of their dreams. Both of our talented dentists have extensive training, natural skill, and a genuine care for each person in their treatment chair, which allows them to craft custom treatment plans that deliver beautiful results. If you're interested in learning more about cosmetic dentistry or are ready to schedule your initial consultation, don't hesitate to visit our website or give us a call at 856-983-4846.