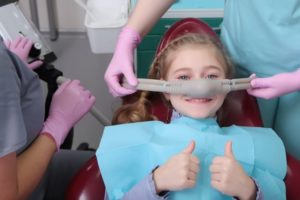 It's estimated that roughly 75% of all Americans experience mild to severe dental-related anxiety; so, if going to the dentist is a point of stress in your life, you aren't alone! However, there are actually many ways of dealing with dental-related anxiety, including nitrous oxide sedation—also known as "laughing gas." But what does nitrous oxide sedation entail and is it safe? Keep reading to learn more about this awesome and completely safe sedation method and some of its many benefits.
What Is Nitrous Oxide?
Nitrous oxide is a variation of nitrogen which has a slightly sweet odor and taste. It's been used in the medical world for over 200 years and continues to help patients today. During medical or dental procedures, the gas is mixed with oxygen and administered through a breathing mask that covers the nose. Within minutes, the patient begins to feel the calming, relaxing effects of the gas; and these effects begin quickly diminishing almost immediately after treatment!
Is Nitrous Oxide Sedation Safe?
Simply put, nitrous oxide sedation is completely safe when properly administered by a medical professional. At dental offices, the drug is combined with oxygen to ensure that the brain isn't susceptible to hypoxia, which is a deficiency of oxygen. Recreational use of nitrous oxide for its euphoric effects can be dangerous; but the amount you're receiving at the dentist's office, combined with the close care and attention that you're accepting, means that you aren't in any danger. Nitrous oxide is non-addictive and non-allergic, however it can sometimes cause nausea in patients. It's also not recommended for people with certain medical conditions like chronic pulmonary disease.
What Are the Benefits of Receiving Nitrous Oxide Sedation?
Nitrous oxide sedation isn't just safe; it's also very advantageous for both dentists and their patients alike, and comes with several different benefits including:
It drastically reduces (or eliminates) dental-related anxiety and ensures a comfortable and pleasant experience.
The amount that you receive is safely administered and controlled by your dentist.
There are no lingering or lasting side effects like drowsiness, which often accompanies other sedation methods.
It allows your dentist to complete longer or more complex procedures within a single visit as it makes the patient more compliant with treatment.
Patients who struggle to remain seated in the chair will have an easier time getting through their appointment.
Whether you're suffering from dental-related anxiety or simply want a more comfortable dental visit, nitrous oxide sedation is a safe and effective treatment option that is certain to provide satisfying results. If you're curious about receiving nitrous oxide sedation, don't hesitate to speak with your dentist about your eligibility.
About the Author
Dr. Kristin Petulla has proudly served patients and families in the Marlton area for several years. Dr. Petulla received her dental doctorate from the University of Maryland School of Dentistry and is a member of several professional organizations including the Crown Council of Dentists, the Academy of Cosmetic Dentistry, and the Southern Dental Society. Her practice is pleased to offer many available services including nitrous oxide sedation. If you have any questions about the article or would like to schedule a visit, feel free to contact Dr. Petulla through her practice's website or by phone: (856) 983-4846.