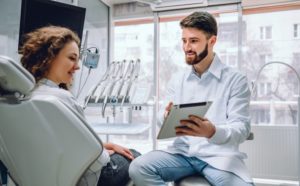 Have you been thinking about replacing your missing teeth? If so, you've likely heard about all of the benefits dental implants have to offer. For instance, they look and feel almost exactly like your real teeth and can even last a lifetime! However, you have to meet certain requirements before you can get dental implants. That's why the initial consultation is important. It's the first step toward rebuilding your smile! Here are four things you can expect your dentist to do at your dental implant consultation.
1. Discuss Your Needs and Goals
Your needs are always your dentist's top priority. So, once you get settled in the chair, they'll ask you about your expectations. For example, they might ask how many teeth you're missing and how long they've been gone. It's also common for dentists to review your medical and oral health history as well as any medications you're currently taking, as that can impact the dental implant process.
Additionally, you'll have the opportunity to tell your dentist about how you'd like your future smile to look. They'll take your desires into consideration when planning your treatment.
2. Evaluate Your Mouth
To determine whether you're a good dental implant candidate, your dentist will capture digital X-rays of your mouth and jaw. These images will let your dentist know whether your jawbone is currently dense enough to support an implant (the underlying bone weakens after a tooth has been lost for some time). If not, you may need to complete a bone grafting procedure to create adequate support for the implant.
Untreated oral health issues, such as gum disease, tooth decay, and teeth that still need to be removed, will also be diagnosed during the consultation. They'll need to be addressed before dental implant surgery, as they could compromise the success of the procedure.
3. Plan Your Treatment
After examining your mouth, the dentist will put together a treatment plan based on your specific needs. This includes any preparatory procedures (bone grafts, gum disease therapy, tooth extractions, etc.) as well as the dental implant surgery itself. Some dentists are able to surgically place implants themselves, while many refer their patients to a trusted specialist in the area to ensure the highest-quality care possible. Your dentist will also outline how long you can expect the process to take, and the team can go over pricing with you.
4. Answer Your Questions
At the end of your dental implant consultation, you'll be able to ask your dentist and their team any questions you may have about the treatment process and what to expect. Getting dental implants is a major decision, and you have the right to know exactly what's going to happen at every step along the way.
If you're at all interested in dental implants, the best way to learn more about them is to schedule an initial consultation with a dentist in Marlton. They'd be more than happy to tell you everything you need to know about this revolutionary tooth loss treatment!
About the Author
Dr. Kristin B. Petulla sees patients of all ages at her self-titled dental practice. She partners with expert oral surgeons in the Marlton, NJ area, so you can trust that your dental implant surgery will be performed with the utmost care and precision. If you'd like to get the ball rolling with the dental implant process, you can reach out to Dr. Petulla by visiting her website or by calling (856)-983-4846.